happy anniversary
The Motorcyclist and the Harvard Man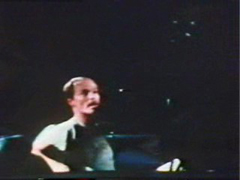 Next week, the day after Christmas in fact, will be the 30th anniversary of the release of the film I've probably yapped about most here - Joe Gage's El Paso Wrecking Corp. Often the "discussion" has been about the missing footage from the scene subtitled Fred Halsted, the Boy and His Dad, with Mike Morris. But folks, I've been holding out on you! There's another scene with missing footage, even harder to come by, that few of us who hadn't seen it in the theatres have ever seen, and seems to ahve only made it onto video tape in the nearly impossible to come by TMX (topman video-x) early 1980's release. But of course, for now anyway, I'm going to show you the EDITED SCENE. But the un-edited scene is a great watersports scene, and we'll just have to come back to that at another time, perhaps after the new year. Just remember, it's one of those dark night scenes, so turn off the lights, and try to watch in "full screen" to really get the full effect of this fantasy sequence between Keith Anthoni and Ken Brown.
directed by: Joe Gage (1977)
Starring: (this scene: Keith Anthoni & Ken Brown; plus a couple of "extras") - Richard Locke and Fred Halsted; plus Clay Russell, Guillermo Ricardo, Keith Anthoni, Mike Morris , Jared Benson , Lou Davis, Steve King, Aaron Taylor, Robert Snowden, Ken Brown, Rob Carter, Jeanne Marie Marchaud, Veronica Compton, and in non-sexual roles Georgina Spelvin, and Stan Braddock; plus "The Wrecking Corps" - Hal Dorn, Joe Gage, Ty Harper, Delmer Jackson, Yank Jankowski, Christian Laage, Buck Lingren, Ed Murray, Bill Oberfeldt, and Al Yeager
Click one of the pics to view the movie trailer (you know that if you view the clip in the browser, you can "right click" and view it FULL SCREEN, right?), or here if you want to download and save for later.