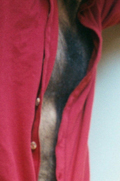 gosh i suk- and not in the good way (OK, i do it in the good way, but what I mean here, for this post, is i suk in the bad way) Short version: I'm excited to be going out tonight, 2nd weekend in a row, which is very very rare for me these days, but it's DOUBLE HEADED DISCO's 3rd anniversary (see post below). I'm excited not just 'cause i had a small hand in naming this monthly event, but it should be fun to see friends I haven't seen in awhile, catch up, hear music I don't usually listen to, consume alcohol on a cold cold January night, etc. And the adorable BF enjoys the music, so he's agreed to do come with. And then I'm over at my pal's music blog,
Be Your Dog
, and he's posted about tonight's party, and ewwwww, there's an old pic of me, with my long scraggly beard, wearing a red shirt, and I think,
i don't wear red shirts
, til I realize it's the shirt part of the longjohns I'm wearing... but I digress... so anyway, he links back here, and I can't remember if I have Jeffy linked up top where it says [elsewhere] with the group of blogpeople at the top part of the drag-down menu, or further down with the miscellaneous websites, like
Bjork
, and
Joe Gage
, and
Guide To Springfield
, and such.... and
D'oh!
- I don't have him anywhere, ferchrissakes!
So, all that to say that I do have many interesting and exciting links in that drop down menu, and yes, locals should join us tonight for this fun evening at Nowhere Bar, and yes, I suk as a friend, and least in bloggerland.