lame? not so much
The Motorcyclist and the Harvard Man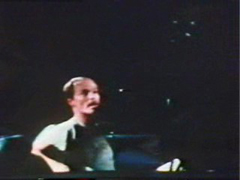 "need some help, man?"
apparently, some of you ain't so lame; in fact, some think using threats (or promises) of yellow liquid splashing all over my - you get the idea. Well, in any case, as I mentioned over 17 months ago with the edited version: .....Just remember, it's one of those dark night scenes, so turn off the lights, and try to watch in "full screen" (with sound turned UP) to really get the full effect of this fantasy sequence between Keith Anthoni and Ken Brown.
directed by: Joe Gage (1977)
Starring: (this scene: Keith Anthoni & Ken Brown; plus a couple of "extras") - Richard Locke and Fred Halsted; plus Clay Russell, Guillermo Ricardo, Keith Anthoni, Mike Morris , Jared Benson , Lou Davis, Steve King, Aaron Taylor, Robert Snowden, Ken Brown, Rob Carter, Jeanne Marie Marchaud, Veronica Compton, and in non-sexual roles Georgina Spelvin, and Stan Braddock; plus "The Wrecking Corps" - Hal Dorn, Joe Gage, Ty Harper, Delmer Jackson, Yank Jankowski, Christian Laage, Buck Lingren, Ed Murray, Bill Oberfeldt, and Al Yeager
Click one of the pics to view the scene (you know that if you view the clip in the browser, you can "right click" and view it FULL SCREEN, right?), or here if you want to download and save for later.