BOY-NAPPED!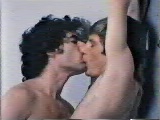 director: Spencer Logan (1975)
Starring: Michael Hardwick, Dwayne Carter, James Rugman (AKA Jamie Gillis), Wade Nichols (Dennis Parker), Bobby Niles
"The story revolves around a hunky athlete of a wealthy background and his college roommate just getting into sex when they are kidnapped, held for ransom, and fucked silly. A vehicle for good-looking singer and actor Wade Nichols (a.k.a. Dennis Parker, who later had a recurring role on the daily soap "The Edge Of Night" as Police Chief Derek A. Mallory), - not too mention his disco album, "Fly Like An Eagle."
This scene shows Jamie Gillis (credited as James Rugman) seeming to try to make his kidnapping cohort Wade Nichols jealous by kissing, smacking, and otherwise fooling around with Dwayne Carter (while Wade keeps busy with Michael Hardwick). I like the Che Guevara poster in the background; nice touch, isn't it? I've ommited the CRISCO portion of the scene (yes, Jamie's manly hand goes right up his captive's little bee-hind), which is no longer in print (of course the full version IS the video I'm selling on eBay).