The Name of the Game is HIGH CARD
HEAT IN THE NIGHT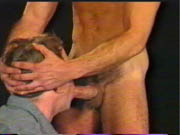 "Let's see who has the biggest cock - suck each other off, let me watch."
Director: Matt Sterling (1989)
Starring: Rex Chandler, Tom Steele, Tony Minetti, Brad Mitchell, Mike Anthony (AKA Michael Brawn), Lon Flexxe, Bill Crane, Ryan Edwards (AKA Beau Beaumont), Tommy Breitz, Bill Marlowe, Cal Jensen, Charley Stone, Dick Masters
Great little clip from this movie, in my humble opinion. Oh sure, the acting is bad, and what's with Tom Steele NOT slurping on one of those huge cocks in front of him? And, excuse me, Cal Jensen with the Speedo-Ad body, you win the game, how come you decide in this "no holds barred" scenario to dictate the other guys suck each other off, while you watch? Not exactly what I'd do faced with the schlongs of Michael Brawn (here listed as Mike Anthony - who, by the way, has his Fan Club up in Wisconsin, but I digress), Tom Steele, and Dick Masters (one of the few times in porn the name TOTALLY fits it's owner) - I mean, of course, if I weren't like seeing this totally great guy and ..... (hehe!) Anyway, despite the flaws, once you see Dick Masters chowing down on the other cocks, and OH-MY-GOD is Michael Brawn one of the best cocksuckers ever or what (apparently, it IS his favorite porn activity, and he LOATHES anal sex, as mentioned in the book Sorry I Asked - oops, digressing again) - look for him in the movie The International Guide to the Fine Art of Fellatio if you need confirmation of his skills) - OK, the setup: Rex Chandler is in jail, falls asleep, and dreams of 4 guys claiming to be the biggest - (notice he's not in the scene - HA!) - of course, they forget to actually try to demonstrate who IS, but we all know it's DICK MASTERS, right?
Of course, eBaying this.