EL PASO WRECKING CORP (again?)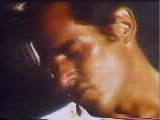 Director: Joe Gage (1977)
Richard Locke and Fred Halsted; Also featuring: Clay Russell, Guillermo Ricardo, Keith Anthoni (in the motorcycle scene), Mike Morris (father), Jared Benson (son), Lou Davis, Steve King, Aaron Taylor, Robert Snowden, Ken Brown, Rob Carter, Jeanne Marie Marchaud, Veronica Compton, and in non-sexual roles Georgina Spelvin (she plays the bartender), and Stan Braddock (probably other, non-credited guys from the orgies).
So, here's a clip from the final scene, the orgy. Just after Fred Halsted has shot his load all over Jared Benson's face, as his "father" Mike Morris watches (whacking himself off, and stroking his sweaty, hairy torso), the movie shifts into full gear - hot MEN-on-MEN warehouse orgy action!
And here's the description I used in the eBay auction, describing this "uncut" video version that is OOP (OUT OF PRINT):
Opened the day after Christmas of 1977, starring Richard Locke and Fred Halsted in the classic road movie/buddy movie/gayporno flick. Locke and Halsted get fired from their jobs at Kansas City Trucking, hop in their pick-up, and head to El Paso in search of work; all the while finding plenty of bars, backrooms, public bathrooms, and outdoor spaces to keep them busy before arriving in El Paso to find jobs at the Wrecking Corp (where they christen the buildings with an orgy before tearing them down!)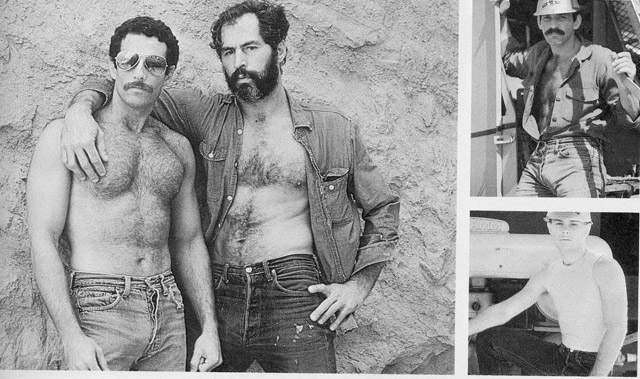 at the Kansas City Trucking Co. - - At the beginning, when Richard Locke and Fred Halsted are drinking in the offices of Kansas City Trucking Co., bored and drunk, Halsted shoots out a window, trying to hit a fly, - scaring the crap out of the secretary, and the next thing you know, they are outside, leaving, because they have just be fired. Parts of this introduction are missing in later versions on video, and the current DVD version.
at Billie's Bar-B-Que - - The two protagonists stop in Billie's bar. Gene, (Fred Halsted) never the one to pass a challenge, takes Will (Steve King) and his girlfriend Kay (Jeanne Marie Marchaud) down to the basement for a demonstration of man to man sex. The men have oral sex while she masturbates as she watches. Meanwhile, some homophobe is making some remarks as Locke is leaning against the bar. Halsted returns (with a big grin), but can't believe what he's hearing, the homophobe starts to grab Halsted, Billie (Georgina Spelvin) shouts (to Halsted) "Now Gene, you put him down" there's a camera shot of the window, then she exclaims "Not there!", and you see this body flung through the window! Much of the aftersex bar scene is chopped/missing from later tapes and the current DVD version.
In The Parking Lot - - Farmhands Aaron Taylor and Robert Snowden wonder about the gay patrons at the bar, never making it inside, but instead masturbating for each other in the front seat of the car. Country/bluegrass music plays the whole while.
Richard Locke and Three Glory Holes - - Our dynamic duo head down the road and stop at a gas station. Not for gas, because it is out of business. The bathroom, though, has a lot of business with glory holes that Hank (Richard Locke) finds filled with occupants. He enjoys oral sex and his buddy Gene watches in amusement.
The Motorcyclist and the Harvard Man - - Connecting the main characters with the next scene, they nearly hit bicyclist Keith Anthoni. Keith makes his way further down the road until he finds Ken Brown besides his stalled car. Keith offers to help and the two start dreaming about having sex with each other and some others. THIS SCENE is a bit choppy, as are the more recent versions; apparently only early video versions by TMX (topman Video-X) contained the full, unedited theatrical version. If my information is correct, two women ran this distribution company out of Southern California, and were arrested after sellign the full version with this W/S scene in tact. Other distributors apparently cut the scene down, and subsequent versions chop out the flying piss. It's a site to see, beautifully choreographed by the master, Joe Gage.
outside Henrietta - - Hank and Gene have their own car trouble and stop at a garage. Homer, the mechanic, is having trouble getting his girlfriend to put out. She leaves, and Fred Halsted offers to help out.
Interwoven with this scene, Hank (Richard Locke) heads out for a walk, meeting hunky ranger Roy ( Clay Russell). They enjoy mutual oral and then anal sex.
The Gardener and the Rug Man - - In El Paso, Roger (Lou Davis) is cleaning and there is some kind of problem communicating with Diego (Guillermo Ricardo), the gardener. But they manage to communicate well enough once Diego pulls his penis out of his pants, and Roger jumps at the chance to get at it. Fantastic oral and anal sex here.
Fred Halsted, the BOY and His Dad - - This segment is missing from more recent video edits, as well as the current DVD version. Gene and Hank arrive at the wrecking yard looking for work from Harris (Mike Morris). Immediately, to everybody's amusement, a worker picks a losing fight with Gene. , Harris' blond young adult son, Seth (Jared Benson), makes eyes at Gene who follows him into a dark shed despite Hank's warning. Gene coaxes the young fellow to perform oral sex only to stop when his father walks in. Dad says nothing, but watches and masturbates, as Fred and the young man continue with their business.
Orgy Finale - - Richard Locke, Fred Halsted, Jared Benson, and others christen buildings with an orgy before tearing them down!) --- 3-way with Halsted, Locke, and Keith Anthoni; Richard Locke performs oral on Jared Benson; Fred gets his face in everywhere.... NOTE: in other video versions, as well as the current DVD, this scene is also chopped up and missing bits. The entire original scene IS on this tape, just shy of 20 minutes long.

Al Steinman's haunting original score was enhanced in theatres by the use of the "SurrounduSound" audio system! (and I love the music for this scene - just fantastic!!
and a special thanks to the GAY EROTIC VIDEO INDEX for outlining the scenes!