wanna fuck? I'll meet you in the living room in 10 seconds
drive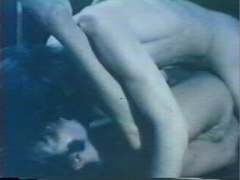 "Good Evening. My name is Arachne; welcome to the club."
director: Jack Deveau (1974)
Starring: Mary Jim Sstunning (a.k.a. Christopher Rage) as Arachne; Mark Luna, Mark Woodward, Peter de Rome, Peter Fersen, Shawn Roberts, Michael Corrigan, Frank Ventgen, Brian Destazio, Richard Abel, Jack Brusca, Harvey Shamber, Jaap Penraat, Stan Glinter, S.V. Newman, and John Fromme
In the disco: Freeman Freeman, Chris Ritter, Avery Addison, Bill Gillers, Steven Sampson, Bill Fitter, Jim Case, Ted Valkus, Renfroe Meyer, Lorrenzo Lasalle, Arch Fairbanks, Denny Mans, Arch Hilborn, Ray Frank, Chris Mobley, Al Kelms; In the Steamroon: Marty Marks, Rusty Lewis, Tray Christopher, Nick Shulman, Paul Turley, Rober Alvarez, Clif Dover, Jack Deveau, Mark Sayles, Joe Gun, Seth Poole; In the Locked Room: George Culver, W. Grippo, Marvin Desimone, John Willard, Paul Conaway, Frederick C. Mongue II; In the Dungeon: Curtis Brtown, Carlyle Taylor, Cal Mansour, Kenric Hawley, Joaquin Mineo, Richard Morrisey; In the Water Bucket: Harold Reardon, and Under the Blade: Kenric Brown.
You want plot, I'll give you plot. A villainess drag queen (played incredibly by Christopher Rage) has a plan to kidnap a government scientist who's developed a drug to eliminate the (male) sex drive. But secret agent Clark (Kirk Luna) is on the case. Sounds amazing, with a screenplay by Christopher Rage, over 50 people in the cast, great cameo appearance by Peter De Rome (who directed such fantastic films as Adam & Yves, The Destroying Angel and had a plan that never materialized to make a gay porno version of Grand Hotel! - he even had preliminary talks with BRUNO to be in it.... oh, but I digress), a fantastic original score by David Earnest, and fantastic, fantastic editing by the director's lover, Bob Alvarez (who I think has been assisting BIJOU VIDEO in their efforts to re-release the HAND IN HAND film catalogue on DVD. Even Jack Brusca had his hand in this, designing the titles, as well as allowing his artwork to be used as backdrops. It's just a fantastic film, more than sex, but an actual peak at gay life in the 70's (OK, so we didn't all hang around drag queens stealing government secrets, nor have great Manhattan apartments; but heck, whadyawant from me?).... Enjoy the clip, and Yes, yes, I'm selling on eBay.